Baba-Nyonya Cuisine In Malaysia
The hybrid cuisine of Malaysia's Baba-Nyonya is probably one of Southeast Asia's finest. The cooking style, a unique blend of Chinese and Malay culture, is a legacy of marriages between the locals and the early Chinese arrivals in the 1400s during the height of the spice trade. As most of the Baba-Nyonyas at the time were rooted in the port towns of Melaka and Penang, the cooking soon evolved to include Indian and Middle Eastern spices. The result is a legacy that stands the test of time, with flavours that are simultaneously sweet, sour, salty and spicy.
Now, if you're of the mindset that Nyonya cooking is a uniform, standardised cuisine, know that like culture, the cuisine varies from town to town. In Malaysia, the Nyonya food that you get in Penang will easily be different from the Nyonya food you get in Melaka. Want to experience Baba-Nyonya cuisine? These dishes should provide a good introduction;
Asam Laksa
Sweet, sour and spicy, asam laksa is arguably Penang's most famous dish. A bowl of asam laksa comes with white rice noodles, steeped within an asam (also known as tamarind) flavoured soup. Its toppings include generous amounts of shredded fish, sliced pineapples, cucumber, onions, red chillies, lettuce, mint leaves and a dollop of thick prawn paste.
Mee Siam
Popular in Melaka, mee siam is a vermicelli dish served in a splash of prawn stock-based broth. Typically topped with shredded omelette and calamansi lime halves, the dish is tangy and just a bit spicy. Like nasi lemak, it is often served for breakfast but can be enjoyed widely throughout the day as well.
Loh Bak
These meat rolls, also commonly known as the five spice roll, are traditionally prepared with pork. However, as with most things in Malaysia, it can be substituted with chicken meat. Marinated in Chinese five-spice powder and mixed with various ingredients such as water chestnuts, jicama, carrot and onions, rolled up with a thin sheet of bean curd, the rolls are fried until crispy on the outside.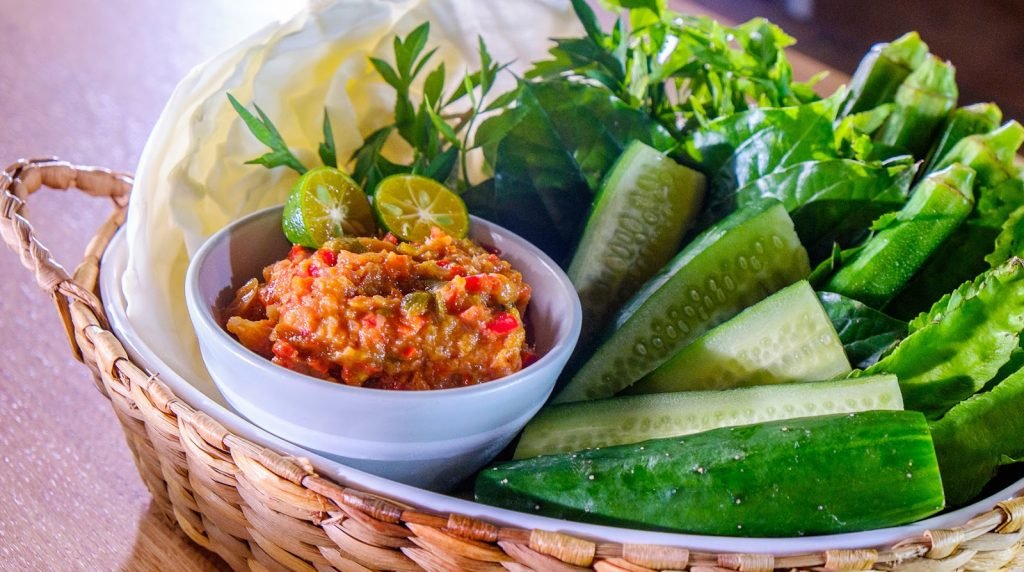 Belacan Lady Fingers
A pile of steamed lady's fingers served with a large dollop of sambal belacan is simply a favourite in Baba-Nyonya households. Often, the greens are not purely limited to ladyfingers either. The greens and the sambals are stir-fried together sometimes, but either way, the aromatic sambal belacan (shrimp paste or sauce, combined with red chillies, shallots, and some garlic, then pounded with a pestle and mortar) is a sublime highlight.