Easy
Great-tasting
Minimal cleanup

Is that what you're looking for on those busy weekdays? The answer to it is simple one-pot meals. Everything cooks in one pot or pan for maximum flavour and minimum cleanup. Imagine a pot that can prepare your protein, vegetables and grains in one dish. Sounds convincing?
We know that the last thing you want to do after a tiring day at work is to clean up after cooking. But takeout food is expensive, especially if you're on a budget. After a while, it's getting boring eating the same food. So how about a one-pot meal instead? It's a cheaper alternative than takeout and healthier too. Plus, you get to control the calories if you're on a diet. Try a tasty stir fry, a chicken rice dinner or a one-pot pasta. Get creative, and you'll soon have a fast and easy yet nutritious meal in minutes.
Here are some ideas to get you started.
One-pot chicken and rice – it's like fried rice and Chinese chicken made in one pot. Bite into savoury rice with chicken loaded with veggies. It's your complete one-pot meal. Just marinate your chicken for 10 minutes with soy sauce, oyster sauce and pepper. In a pot, sear your chicken, remove then add in garlic and onion. Fry till fragrant, then add in the rice. Mix well then add in chicken, broth and veggie stems or carrots into the mix. Close the cover and cook till rice is fluffy. If you are using leafy vegetables, now is the time you can add in the leaves and wilt it in the heat before serving.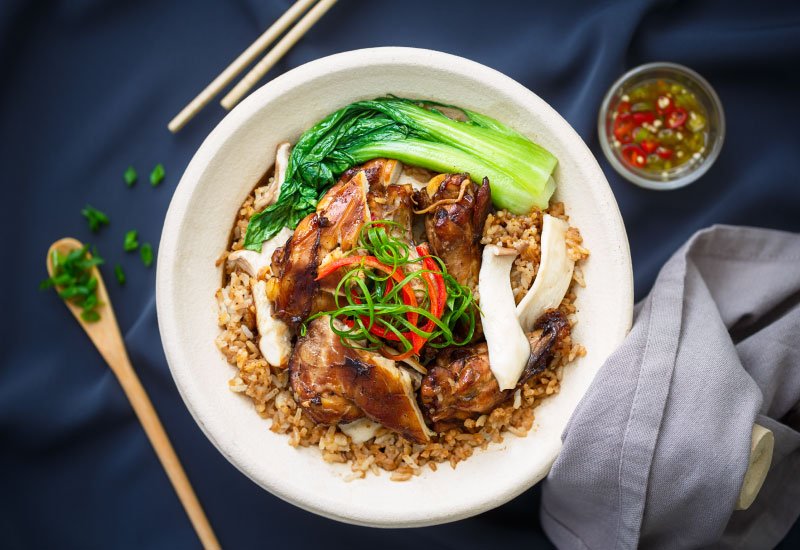 Chicken porridge – A simple light meal that can be fixed in less than 30 minutes. All you need is diced carrots, cooked rice, marinated chicken and dried shiitake mushrooms. Cooked rice saves you time from cooking the porridge from scratch. Just boil them in your pot till you reach your preferred consistency. You can substitute chicken for seafood or fish.
Roast chicken thighs with vegetables – Marinade chicken thighs with your favourite marinade. Toss vegetables like zucchini, cherry tomatoes, bell pepper and baby potatoes with oil, salt and pepper. Place the greens at the bottom of a casserole dish, and chicken on the top. Brush chicken with olive oil and melted butter. Roast the casserole till the chicken skin is crispy and golden brown. Serve with toasted garlic bread.
Tuna pasta – All you need is canned tuna (drained from the liquid or oil), boiled pasta, onion, frozen peas, mayonnaise, mustard, salt and pepper. Just cook the pasta and frozen peas, drain it and set aside. Chop onions, then mix it in with the canned tuna, pasta and peas. Mix in mayonnaise, mustard, salt and pepper, and it's all done. Add in chopped boiled eggs for a richer taste.