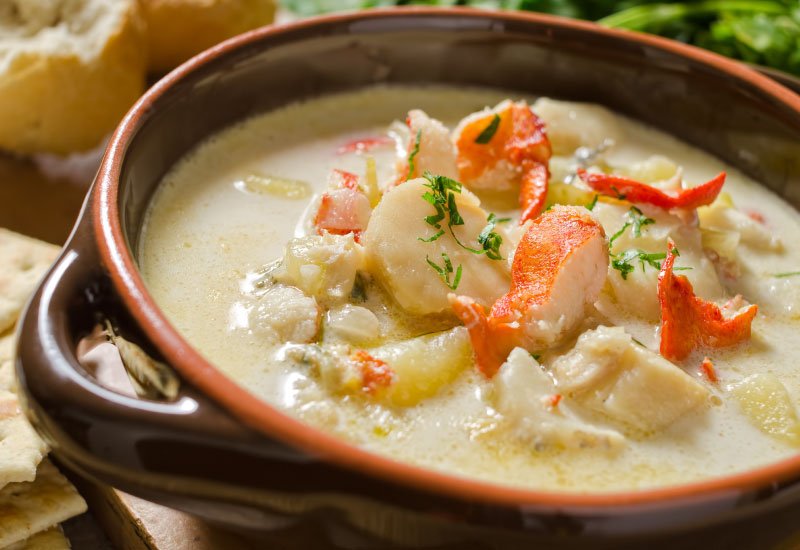 A complete meal on its own, seafood chowder is loaded with shrimps, scallops and fish. Filling and hearty, it is comfort food on a cold rainy day. Add on the side of toasted buttered baguette, garlic toast or buttermilk biscuit to soak up that creamy goodness.
So, what is chowder and what's the difference between chowder and soup? Chowder is basically soup that's thicker and creamy while the soup has a thinner broth. The name chowder is derived from the French term "chaudiere" which is a type of cooking pot, similar to a boiler where French fishermen boil their veggies and potatoes in.
Chowder is thick, enriched with flour, salt and meat fat, giving it its creamy texture. Cream, potatoes, seafood and onions are added to make it thick and chunky. Common chowders found are the traditional clam chowders, corn chowders and fish chowders. Of course, from the basic base, many variations have evolved by adding other types of seafood, sausages and meats for a more heartier and filling meal.
Let's dig out the pot and ladle and make a simple seafood chowder!
Ingredients: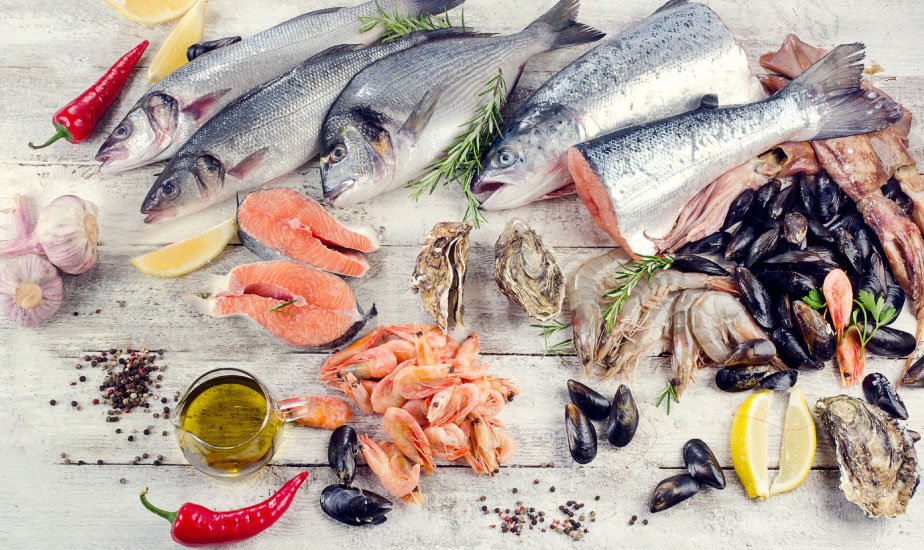 1 tbsp butter
2 stalks celery, diced
1 bay leaf
1 tsp dried thyme or dill
Salt and pepper to taste
2 large potatoes, peeled and diced
2 cups of water or stock (vegetable or fish)
1/3 cup all-purpose flour
3 cups of milk
2 cups of fish fillets (chopped and skinned), your choice of seafood (clams, lobster, shrimp, scallops, crab, oysters)
2 tbsp freshly squeezed lemon juice
Whole-grain crackers, crushed

Method:
Melt butter over medium heat in a large pot, sauté celery, onion, bay leaf, thyme, salt and pepper until the onions start to brown. Add in potatoes and continue to stir.
Increase the heat to medium-high, add in water or stock and bring to boil. Cover and reduce the heat. Simmer till the potatoes are quite tender.
Whisk flour with milk and stir it into the pot slowly, bringing it to simmer. Remember to stir it often. Add in the seafood and fish pieces, stir until the seafood is cooked.



Discard the bay leaf, add in the lemon juice, salt and pepper to taste.
Serve in bowls topped with crushed crackers.